How Do You Lose a Work of Conceptual Art?
Collector Sues After Gallery Misplaces Sol LeWitt Certificate
by Julia Halperin, published in Artinfo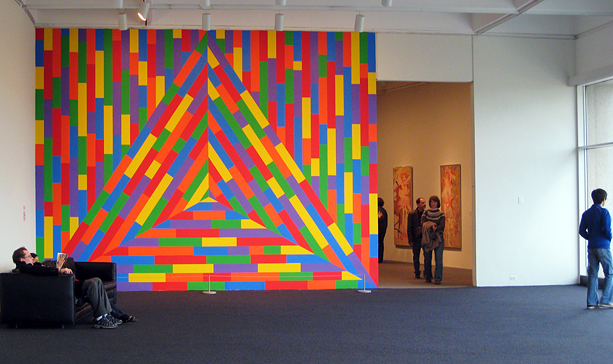 What is the essence of a Sol LeWitt wall drawing? What makes these works — which famously exist as a series of instructions, executable by anyone who owns them — authentic LeWitts and not just some lines on a wall? This metaphysical quandary is about to be played out in a lawsuit filed by disgruntled collector and dealer Roderic Steinkamp against Chicago's Rhona Hoffman Gallery.
On May 22, Steinkamp sued Hoffman and her eponymous gallery for a total of $1.4 million, alleging that she lost a certificate of authenticity for a Sol LeWitt drawing he consigned to her in 2008. (The lawsuit was first reported by Courthouse News.) "Since the wall drawings do not constitute freestanding, portable works of art like a framed canvas or a sculpture on a podium, documentation of the work is key to transmitting it or selling it to a collector or institution," says the complaint, filed in New York County Supreme Court. "The unique nature of Sol LeWitt's wall drawings renders their accompanying Certificates of authenticity critical to such works' value."
According to the complaint, Hoffman assumed legal responsibility for the certificate when she accepted it (along with a maquette of the drawing it represented) from the collector for consignment. She got back in touch with Steinkamp last year to tell him the certificate was "lost and irretrievable." Her insurance company would not cover the "mysterious disappearance" of the certificate, she allegedly told Steinkamp, and in order to file a claim with the police she would have to lie about the date it was lost. She asked the collector to name the "smallest amount" he would accept, according to court documents, and said that "if worse comes to worse" she would have to pay the plaintiff cash.
Instead, Steinkamp is suing Hoffman for breach of bailment (or, failure to act as a proper custodian for a piece of property), breach of contract to maintain and preserve the certificate, negligence, and conversion, to the tune of $350,000 per count. The drawing in question — "Wall Drawing no. 448" — was originally created for a private residence in Cambridge in 1985. Neither Hoffman nor Steinkamp's lawyer Aaron Richard Golub (an art collector himself and quite the colorful character, who once represented David Hampton in an unsuccessful lawsuit against playwright John Guare for using his life story in "Six Degrees of Separation") returned a request for comment.
Read more at Artinfo