SCREENING PROGRAM: RECORD > AGAIN!
SALT Beyoğlu, Walk-in Cinema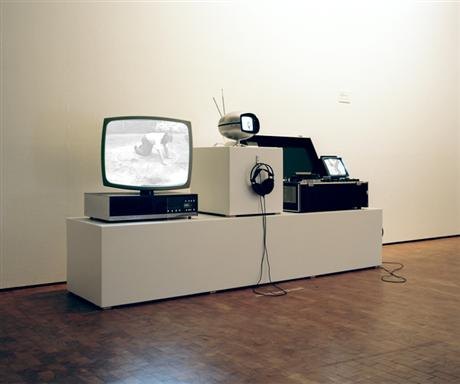 "If we do not think of a better way of handling videotapes, soon, all we will have left of video art will be white noise." Wulf Herzogenrath (1995)
RECORD > AGAIN!, the second part of the project 40yearsvideoart.de, is realized by ZKM in cooperation with The German Federal Cultural Foundation and the Goethe-Institut. During this program, the Walk-in Cinema at SALT Beyoğlu will host screenings of 42 videos between May 8 and May 16.
All electronic data carriers have a very limited life span. Museums and collections alike are confronted with the risk of videotapes and other related media appearing in the form of 'white noise' on the screen. This technical horror story could also indicate the total loss of digital data. As artistic practices utilize video in the form of a tape, installation, or projection, there is an increasing awareness of this problem in this familiar territory. The classical concept of 'Video Art' no longer seems to be in effect today, but what led to the success of the medium is still remains as unresolved.
For that reason, the initiative of the German Federal Cultural Foundation 40yearsvideoart.de project's first part, Digital Heritage: Video art in Germany from 1963 to the present focused on saving, maintaining, and mediating the cultural heritage of Video Art, which has become one the most influential art forms of the 20th century.
The second part of the project entitled RECORD > AGAIN! reflects the core mission of the project: preservation, not canonization. The goal was to save material that was under the threat of disappearing, to rescue forgotten material and the forgotten social utopias that had flourished with the emergence of video. Hence, not only important art videos are rediscovered and restored, but also works from the entire spectrum of the video revolution of the 1960s and 1970s are rendered visible, many of which were considered untraceable, lost, or no longer suitable to play. The main concern was to save these works from deteriorating, from literally falling apart, attempting to reconstruct the history of the video movement as a whole.
This screening program is being organized in the context of İstanbul Eindhoven-SALTVanAbbe: 68-89, which is on view until August 26 at SALT Beyoğlu.